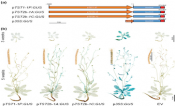 A team from the University of Illinois has discovered two plant stem-specific expression of genes, the promoters of which could potentially serve as a tool for increasing oil production in energycane, a type of sugarcane with the capability of producing more biomass in harsh conditions, leading to higher oil production for fuels.
A team from the U.S. Department of Energy's Brookhaven National Laboratory (BNL) has bred a plant that produces more oil by manipulating the availability of sugar for oil synthesis.
The U.S. Department of Energy (DOE) awarded the University of Illinois a $10.6 million, five-year grant to transform two of the most productive crops in America into sustainable sources of biodiesel and biojet fuel.